Security National Financial Corporation Reports Financial Results for the Year Ended December 31, 2022
SALT LAKE CITY, April 03, 2023 (GLOBE NEWSWIRE) -- Security National Financial Corporation (SNFC) (NASDAQ symbol "SNFCA") announced financial results for the year ended December 31, 2022.

For the twelve months ended December 31, 2022, SNFC's after-tax earnings from operations decreased 35% from $39,519,000 in 2021 to $25,690,000 in 2022, on a 17% decrease in revenues to $389,652,000.
Scott Quist, Chairman of the Board, President, and Chief Executive Officer of SNFC, said, "Overall, our after-tax profit of $25.6 million means that the Company earned a net 1.76% return on total assets (2.35% pretax) and an 8.7% return on equity (11.6% pretax). Those are very acceptable overall numbers and is, in fact, our 3rd best year lagging behind only 2020 and 2021. Nevertheless, I would characterize 2022 as being a "rugged" year. The rapid rise in interest rates in 2022 created a decided downdraft on our earnings. For example, included in our earnings are roughly $4 million dollars in unrealized security losses and roughly $6 million dollars of unrealized losses in loans held on balance sheet. We saw death rates decline pretty much throughout the year, which helped our Insurance segment, but hurt our Memorial segment. Mortgage loan demand evaporated beginning in March, which resulted in a roughly 32% year-over-year decline in mortgage loan revenues, but the decline was certainly greater in the later months of the year. For example, December 2022 had a roughly 67% revenue decline as compared to December 2021. We did have a huge earnings boost from our Mortgage Servicing Rights sale, but the operating environment remains very tough.  
"Despite the current environment, we remain committed to the task of growth and improved profitability. We view this current economic uncertainty as a time to expand. For example, even in this tough mortgage loan environment we have increased our number of producing loan officers. In our Insurance segment we have increased the premium rates on some of our most popular products and have seen good acceptance of the increase. In our Memorial segment we have added key personnel who we believe will drive growth and improved operations. To be sure, growth in this environment is expensive, but is nevertheless our goal."  
SNFC has three business segments. The following table shows the revenues and earnings before taxes for the twelve months ended December 31, 2022, as compared to 2021, for each business segment:
 
Revenues
 
Earnings before Taxes
 
 
2022
 
 
 
2021
 
 
 
 
 
2022
 
 
 
2021
 
 
 
Life Insurance
$
169,183,000
 
 
$
163,014,000
 
 
3.8
%
 
$
14,196,000
 
 
$
14,973,000
 
 
(5.2
%)
 
 
 
 
 
 
 
 
 
 
 
 
 
 
 
 
Cemeteries/Mortuaries
$
28,948,000
 
 
$
27,264,000
 
 
6.2
%
 
$
6,094,000
 
 
$
7,925,000
 
 
(23.1
%)
 
 
 
 
 
 
 
 
 
 
 
 
 
 
 
 
Mortgages
$
191,521,000
 
 
$
280,418,000
 
 
(31.7
%)
 
$
14,087,000
 
 
$
28,903,000
 
 
(51.3
%)
 
 
 
 
 
 
 
 
 
 
 
 
 
 
 
 
Total
$
389,652,000
 
 
$
470,696,000
 
 
(17.2
%)
 
$
34,377,000
 
 
$
51,801,000
 
 
(33.6
%)
 
 
 
 
 
 
 
 
 
 
 
 
Net earnings per common share was $1.17 for the twelve months ended December 31, 2022, compared to net earnings of $1.80 per share for the prior year, as adjusted for the effect of annual stock dividends. Book value per common share was $13.88 as of December 31, 2022, compared to $14.77 as of December 31, 2021.
The Company has two classes of common stock outstanding, Class A and Class C. There were 21,088,004 Class A equivalent shares outstanding as of December 31, 2022.
This press release contains statements that, if not verifiable historical fact, may be viewed as forward-looking statements that could predict future events or outcomes with respect to Security National Financial Corporation and its business. The predictions in the statements will involve risk and uncertainties and, accordingly, actual results may differ significantly from the results discussed or implied in such forward-looking statements.
If there are any questions, please contact Mr. Garrett S. Sill or Mr. Scott Quist at:
                     Security National Financial Corporation
                     P.O. Box 57250
                     Salt Lake City, Utah 84157
                     Phone (801) 264-1060
                     Fax (801) 265-9882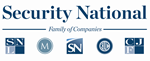 Source: Security National Financial Corporation