Security National Financial Corporation set to join Russell 3000® Index
SALT LAKE CITY, June 27, 2023 (GLOBE NEWSWIRE) -- Security National Financial Corporation (SNFCA) joined the broad-market Russell 3000® Index at the conclusion of the 2023 Russell indexes annual reconstitutions, effective after the US market opened on June 26, 2023.

The annual Russell reconstitutions capture the 4,000 largest US stocks as of April 28th, ranking them by total market capitalization. Membership in the US all-cap Russell 3000® Index, which remains in place for one year, means automatic inclusion in either the large-cap Russell 1000® Index or the small-cap Russell 2000® Index, as well as the appropriate growth and value style indexes. FTSE Russell determines membership for its Russell indexes primarily by objective, market-capitalization rankings and style attributes.
Scott Quist, President and Chairman of the Board for Security National Financial Corporation stated: "Security National has always strived to provide strong returns for our investors and provide an investment vehicle that is stable. The inclusion of Security National in the Russell 3000 this year is evidence of our continued efforts."
Russell indexes are widely used by investment managers and institutional investors for index funds and as benchmarks for active investment strategies. Approximately $12 trillion in assets are benchmarked against Russell's US indexes. Russell indexes are part of FTSE Russell, a leading global index provider. This is the second time that Security National has been added to the Russell 3000 index. Security National was also added to the Russell 3000 index in June 2020, until its reconstitution in June 2021.
For more information on the Russell 3000® Index and the Russell indexes reconstitutions, go to the "Russell Reconstitution" section on the FTSE Russell website.
About Security National Financial Corporation:
Founded in 1965, Security National Financial Corporation operates in three business segments. The Company sells and services selected lines of life insurance, annuity products, and accident and health insurance, operates cemeteries in Utah, New Mexico and California and mortuaries in Utah and New Mexico, and originates and underwrites residential and commercial loans for new construction and existing homes.
About FTSE Russell:
FTSE Russell is a global index leader that provides innovative benchmarking, analytics and data solutions for investors worldwide. FTSE Russell calculates thousands of indexes that measure and benchmark markets and asset classes in more than 70 countries, covering 98% of the investable market globally.
FTSE Russell index expertise and products are used extensively by institutional and retail investors globally. Approximately $20.1 trillion is currently benchmarked to FTSE Russell indexes. For over 30 years, leading asset owners, asset managers, ETF providers and investment banks have chosen FTSE Russell indexes to benchmark their investment performance and create ETFs, structured products and index-based derivatives.
A core set of universal principles guides FTSE Russell index design and management: a transparent rules-based methodology is informed by independent committees of leading market participants. FTSE Russell is focused on applying the highest industry standards in index design and governance and embraces the IOSCO Principles. FTSE Russell is also focused on index innovation and customer partnerships as it seeks to enhance the breadth, depth and reach of its offering.
FTSE Russell is wholly owned by London Stock Exchange Group.
For more information, visit www.ftserussell.com.  
Contact: Scott M. Quist or Garrett S. Sill
Security National Financial Corporation
P.O. Box 57250
Salt Lake City, Utah 84157
(Telephone) (801) 264-1060
(Fax) (801) 265-9882
Website: www.securitynational.com
This press release contains statements that, if not verifiable historical fact, may be viewed as forward-looking statements that could predict future events or outcomes with respect to the Company and its business. The predictions in these statements will involve risk and uncertainties and, accordingly, actual results may differ significantly from the results discussed or implied in such forward-looking statements.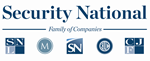 Source: Security National Financial Corporation